Welcome to Bönhamns brygga
Sit down and enjoy a nice cup of coffee and a cake. Here you will find everything from good biscuits and cakes to a delicious cake with cream or a creamy winsorbulle. Our pastries come from the fine bakery Järrendals in Kramfors. (Reserevation that things can end)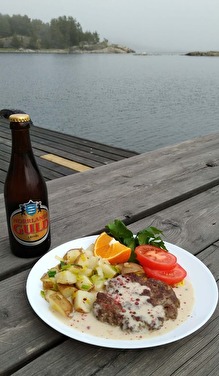 We conserve our built and shop our commodities locally, the menu for food is varied. There is always something for all tastes and if it's allergies, our chef Malin can usually solve something smelly so everyone gets saturated and happy.
Here you can find a basic variety of foods and accessories. Bönhamns brygga is located along the quayside, so you can easily add if you come by boat. If you have a car or caravan it is about 300m from the parking lot.
Malin runs the Bönhamns brygga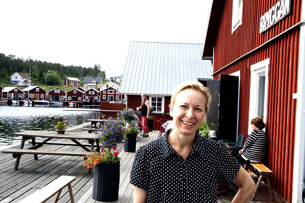 Now she is back at home again - at Bönhamns brygga. After, for example, 23 years in the United States, Malin Hugee, formerly named Melin's last name, has taken over a five-year lease by Bryggan. Malin Hugee really knows the fishing village of Bönhamn, where she grew up and where she already worked as a 11-year-old at Arnes Sjöbod. Now it's her turn to be an employer and create five new summer jobs. "We need a lot of employees because we will extend opening hours, both open earlier in the morning and in the evening opening. The idea is that it will provide better service, especially for the boat people, as she says may have chosen a number of other ports to add in recent years. In addition, she will have a mini-shop with some sales of basic food as an additional service. Plans are also available for rebuilding at the seabed, for example putting safety bars against the water, awnings and heat pavers that make it more comfortable to sit outside in the evening.
read more here.